Two Bowl Slushie Machine 24h hire from $150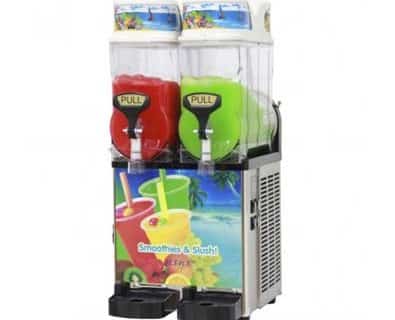 Standard range includes
COLA, BLUE, LIME, WATERMELON, PINEAPPLE, STRAWBERRY, ORANGE, MANGO, LEMON, PINELIME, WILDBERRY, TROPICAL, BLUE LEMONADE, BUBBLEGUM, RASPBERRY, BLUEBERRY, GRAPE, MUSK STICK, PEAR, GREEN APPLE, BANANA
Cocktail range includes
BLUE LAGOON, ILLUSION, FRUIT TINGLE, SEX ON THE BEACH
MARGARITA, COSMOPOLITIAN, PINA COLADA, MOJITO, LEMON LIME & BITTERS
We supply the machine and give you enough mixture that will make 24 litres of slushie (upon freezing 2 flavours) and give you 100 x standard cups and straws with 2 Flavour Bases of your choice & you can either add 1-2 700ml bottles of your favourite alcohol such as Vodka, White Rum, Tequila as suggested or keep it alcohol free for the younger ones.
* Free delivery/pickup
* Free setup
* Will even clean the machine
* Extra discounts when hiring more than (1) item from us
All you have to do is provide a flat table and 240v power outlet and will do the rest.
Extras:
Additional refill syrup bottles – $40 for 4 ltrs
(makes 24 ltrs slushie)
plastic cups – $10 for 100
spoon straws – $5 for 100
plastic martini cups – $1.00 each
cocktail umbrellas – $20 for 100
All our flavours can be served as mocktails or cocktails. for alcoholic cocktails add between 1-2 bottles of spirit (700ml for every 12 litres cocktails.
Cocktail recipes
FRUIT TINGLE
Just add Vodka to Fruit Tingle syrup to create a delicious fruity cocktail !
PINACOLADA
Just add Malibu or Bacardi to Pina Colada syrup & you'll feel like you're in Hawaii!
ILLUSION
Add half vodka & half Malibu to Illusion syrup and taste the melon!
BLUE LAGOON
Just add vodka to Blue Lagoon syrup and sail away with this bright, fun cocktail!
JAPANESE SLIPPER
Just add orange liqueur to Illusion syrup to create this refreshing cocktail!
COSMOPLITAN
Just add Vodka to cosmopolitan syrup to make this old time favourite!
TRADITIONAL MARGARITA
Just add tequila to Margarita syrup to make this tangy cocktail!
PINEAPPLE MARTINI
Just add half Bacardi rum and half Vodka to pineapple syrup to make a fruity martini!
HULA-HULA
Just add Gin to orange syrup to make this fun cocktail!
DAIQUIRIS
Just add Bacardi rum and juice from a fresh lime to any of the Strawberry & Mango fruit flavoured syrups.
BAY BREEZE
Just add 1L vodka & 1L of cranberry juice to Pineapple syrup to make this refreshing cocktail.
FROZEN MUDSLIDE
Mix vodka, baileys and kahlua with milk and Neutral syrup to make this delicious, creamy cocktail!
FRUITY MARGARITAS
Just add tequila and fresh lime to any of the fruit flavoured syrups to create a fruity sensation!
SUMMER BREEZER
Mix 800ml Vodka and 200ml Cointreau with tropical Syrup to make this delicious summer drink!
SPLICE
Mix 500ml of white rum and 500ml of midori with our Pineapple base to make yummy frozen splice.